San Diego News
I AM My Brothers Keeper Comes Together with the National Indian Gaming Association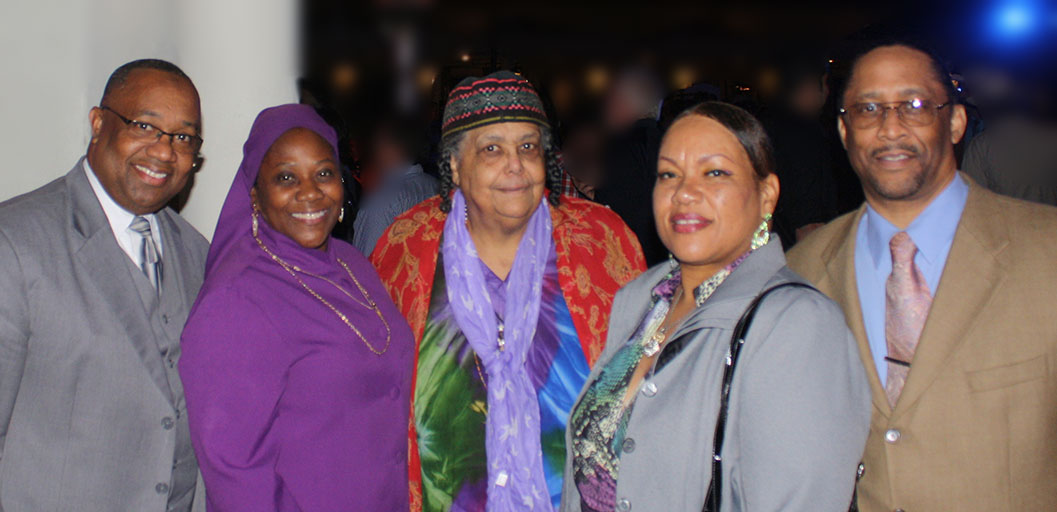 The Reception for NIGA Chairman Ernie Stevens on Monday evening March 30th kicking off the National Indian Gaming Association 2015 Trade Show and Convention was memorable. Poolside at the San Diego Manchester Hyatt was an elegant multicultural mix which attracted hundreds of attendees and well -wishers who came from all corners of the nations' Indian gambling meccas. The celebratory event was filled with reminiscing marking the Chairman's seventh year as chair. Formal attire punctuated by cowboy boots and hats made for a high- spirited "come as you are" interactive setting .
In keeping with the underlying theme of business development Bro Hugh Muhammad and his wife Sybil of Muhammad Mosque #8 6601 Imperial Ave, San Diego, anointed the gathering with their presence. As founder of "I Am My Brother's Keeper", Hugh Muhammad's reaching out emphasized "I Am My Brother's Keeper' "commitment to vision and service while complementing Chairman Steven's conviction that, "Our membership is our strength and we are stronger when our voice is unified."
Danny Tucker and his awesome band polished off the enchanted evening with a set designed to inspire the ancestors to shine a light on continued community development and networking.
San Diego agencies cash in on drug money, assets
Posted by: inewsource staff January 26, 2015

by Leo Castaneda and Brad Racino | inewsource

Why this matters: Civil asset forfeiture is a mechanism police use to thwart criminal activity and bolster their budgets, yet critics say the program is ripe for abuse.

A federal program allowing police to seize money and assets related to drug trafficking has been good to San Diego County's cops and prosecutors, providing nearly $30 million to their agencies between 2007 and 2014.

Law enforcement agencies have used that money to purchase equipment and to fund services they would otherwise do without.

Some examples: El Cajon police bought a $15,000 "throwbot," a robot SWAT teams throw into dangerous buildings.
San Diego police spent nearly $1.9 million on its helicopters, National City police upgraded a fleet of vehicles, and Oceanside temporarily financed the purchase of a $243,000 BearCat, an armored, bullet-proof police vehicle.

All the documents detailing these purchases were released by the Washington Post in mid-January, and inewsource has made San Diego County's available in a searchable database here.

Big changes, little effect
On Jan. 16, U.S. Attorney General Eric Holder announced changes to the asset forfeiture program, officially called the Equitable Sharing Program. For more than 30 years, it has operated like this:

Download all San Diego law enforcement agency filings by clicking here.

A local law enforcement agency seizes cash or an asset, such as a car, weapons, even real estate, that it believes is connected to drug trafficking. That agency then asks the federal government to "adopt" the seized assets.

Once the government takes over the assets, it divides the total value between the federal and local agencies, with up to 80 percent going back to the local police department.

Under the changes announced by Holder, the government will no longer adopt those seized assets. But that doesn't mean local departments will suffer. They can continue to seize assets themselves, and they can continue to benefit from forfeitures that are part of a joint state and federal operation.

That means that for most asset forfeitures local law enforcement agencies will be able to cut out the middle man — the federal government — and will get more of the money from those assets.

The downside of the federal government stepping out of the picture is that stricter rules will kick in in some cases. Local agencies will need a related criminal conviction in those instances before they can cash in the assets.

The federal program has long been criticized by members of the House and Senate, as well as civil rights activists. It even resulted in a segment on the satirical HBO show "Last Week Tonight with John Oliver" in October 2014.

Criticism centers on the fact that law enforcement officials don't have to arrest or charge a person with a crime before seizing his or her assets, and the person is often required to prove that the money or assets aren't related to criminal activity in order to get it back.

inewsource analyzed records the Washington Post received through a Freedom of Information request to the U.S. Department of Justice. Fifteen San Diego County law enforcement agencies participated in the program, including the San Diego State University Police Department and the San Diego County Probation Department.

One-time purchases

The largest recipient of forfeiture money was the San Diego County Sheriff's Department, which has received almost $10 million since 2007. Sheriff Bill Gore told inewsource the funds are used to handle "unexpected" expenditures, such as a wiretap or the construction of a new facility.

CREATOR: gd-jpeg v1.0 (using IJG JPEG v62), quality = 90
Sheriff Bill Gore. Photo | Sam Hodgson

"I look at it as a very fiscally sound way to fund law enforcement operations," Gore said, "by taking the criminal proceeds of criminal activity to fund law enforcement to break up further criminal activity."

Holder's decision, Gore said, will have a "minimal impact" on the Sheriff's Department because in San Diego County, the overwhelming majority of asset seizures are done through task force operations in conjunction with the federal government. Holder's new guidelines apply only to situations where a police agency, working alone, seizes property.

"Our seizures, like I say, the vast majority, are not done in that fashion."

Other law enforcement agencies in the county also have used asset forfeiture money for one-time purchases.

Oceanside Police Department spent $243,352 on a BearCat armored vehicle in 2012. However, the following year the department returned the money and paid for the vehicle with a U.S. Department of Homeland Security grant.
Oceanside's Lt. Sean Marchand said the BearCat was an important piece of equipment to acquire.

"I can tell you we've used it (BearCat) several times, it's fortunately not been shot. However it's a vehicle that's capable of providing safety and security for those inside, those on the backside of it relative to whatever threat is there," Marchand said. "And honestly it's there to protect the citizens of Oceanside."

In fiscal year 2009, Oceanside used asset forfeiture money to purchase a $147,000 weapons simulation system that allows police officers to train for use-of-force simulations and $388,470 on a mobile command vehicle.
Funding vehicles of every kind

Carlsbad Police Department used some of its money for something less flashy: $184,000 in furniture and cabinets for new detectives. It also bought an air purifier for its evidence and property room, as well as weapons and gear such as riot control helmets.

Search or browse all San Diego county law enforcement agency spending of special funds here.

Fiona Everett, the Carlsbad department's senior management analyst, said asset forfeiture money is a good way to invest in equipment the agency needs but couldn't normally afford. For example, in 2009 it was able to use asset forfeiture money to buy a $213,000 mobile command post similar to the one Oceanside police bought.

"And that's a good example of something that as a department we didn't have the money to buy… but there's certainly a need for it to provide the best service to the community," Everett said.

The National City Police Department focused its seized assets money largely on vehicles, starting with a $161,000 command vehicle in fiscal year 2009. The following year it spent $1,248 on tires and a battery for a BMW M6 Series, plus $9,165 on storage and management for three cars including a 2007 BMW M6 Series.

The National City department did not respond to repeated calls for comment.

Between 2001 and 2012, National City spent more than $191,000 on two Chevy Tahoes, three Nissan Altimas, a Ford van and two Ford Fusions. It spent an additional $73,000 on repairs and build-outs such as undercover packages, window tints and trunk vaults.

The San Diego Police Department also used seized asset funds to pay for vehicle expenses. However, that department aimed higher than National City department — several thousand feet higher. In fiscal 2012, San Diego police spent almost a million dollars on its helicopter, including gasoline ($394,000), insurance ($139,000) and

"Police Air Support Helicopter Improvements" ($397,000).

San Diego police did not respond in time for publication.
Subcategories
Barrio Logan, Black Mountain Ranch, Carmel Mountain Ranch, Carmel Valley, City Heights, Clairemont Mesa, College Area, Del Mar Mesa, Downtown, Center City, East Elliott, Eastern Area, Encanto, Fairbanks Ranch Country Club, Greater Golden Hill, Kearney Mesa, Kensington-Talmadge, La Jolla, Linda Vista, Midway Pacific Hwy Corridor, Miramar Ranch North, Mira Mesa, Mission Beach, Mission Valley, Navajo, Normal Heights, North City Future Urbanization Area (NCFUA), North Park, Ocean Beach, Old Town San Diego, Otay Mesa, Otay Mesa - Nestor, Pacific Beach, Pacific Highlands Ranch, Peninsula, Rancho Bernardo, Rancho Encantada, Rancho Penasquitos, Sabre Springs, San Pasqual Valley, San Ysidro, Scripps Ranch, Serra Mesa, Skyline Paradise Hills, Southeastern San Diego, Tierrasanta, Tijuana River Valley, Torrey Highlands, Torrey Hills, Torrey Pines, University, Uptown, Via de la Valle.
Print copies here!
Central
Educational Cultural Complex
Logan Heights
Malcolm X
North Park