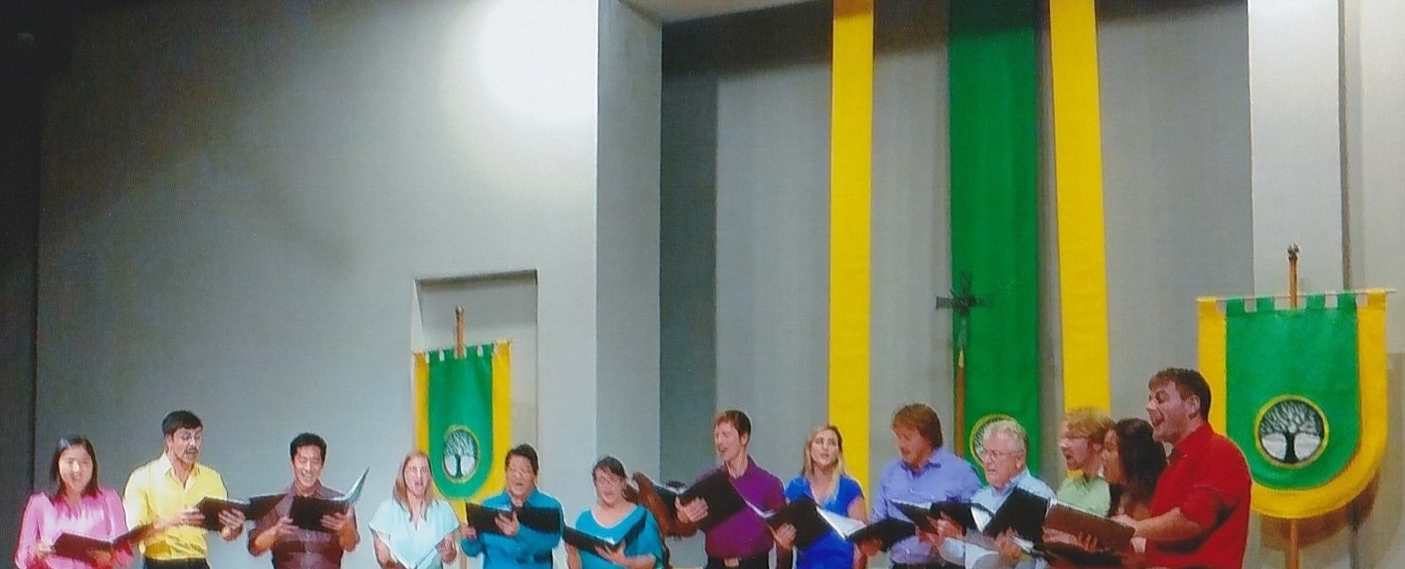 Karol's Karolers from left to right: Taylor Ishida, Matt Jewell, Keane Ishii, Andrea Smith, Mitch Moriwaki, Karyn Castro, Scott Fiske, Caitlin Cavarocchi, Michal Nowicki, Cliff Hunter, Padraic Costello, Jenny Normand, Karol Nowicki
Karol's Karolers was originally formed in October of 2012 by the newly formed Ohana (family) consisting of three Polish brothers: David Del Rocco, Młchal Nowicki, and Karol Nowicki, They started as a Holiday cheer choir, around the island of Oahu, and as their fan base developed, they responded to multiple requests to expand upon their repertoire. This is written the morning after the first concert of their second summer session. With a goal to bring music of different languages to listeners on the island of Oahu, they have proven to be an enjoyable evening of talent, utilizing indigenous instruments to supplement the amazing vocal range which includes all four standards parts of a choir. The choice of songs for this particular performance included secular and religious music. The young singers of this group were all given an opportunity to speak as well as showcase their individual talents throughout the course of the evening.


The individuals who sang last night were: Karyn Castro, Caitlin Cavarocchi (new member!), Padraic Costello, Taylor Ishida, Jenny Normand (who flew in from Houston, Texas especially to perform her last show with the Karolers!), Andrea Smith, Scott Fikse, Cliff Hunter, Keane Ishii, Matt Jewell (new member!), Mitch Moriwaki, Karol Nowicki, and Młchal Nowicki.

May 28th review
This group commenced once the house lights were down, commencing the first song after a walk-on from a left staging area, the Karolers sang a Zulu folk song encouraging the listeners to be joyful, playful and have a good time with Jesus. This choice set the mood and flourished within the atmosphere in which there was a packed house at the Lutheran Church of Honolulu. It is at this point, that the Djembe drum is introduced and provides a meter of which those of us who are familiar with African folk music, felt the need to move to the beat. As I was seated in the final pew to the farthest of the right, I enjoyed this immediate audience response to the performance.


The following is the song list copied from the program, indicates the range and variety of song choices that this choir has the amazing opportunity to learn, perfect and perform for the people of Oahu.
Weep O Mine Eyes (16th century), unrequited love

Mutoma, Mia Cara (Italian) drunken soldier singing to a beautiful lady.

Suo Gân (Welsh lullaby)

Na Ke Akua 'Oe E Kia'i (Religious)

Keep Watch, Dear Lord (Religious)

Il Est Bel et Bon (French 6th, Century) Ladies sing about their husbands

Amor De Mi Alma (Spanish 16th Century) Love deeper than life and death

Hej, sokoły (Polish folk) Soldiers saying goodbye to their girlfriends

Loch Lomond (Scottish, Spiritual)

Dúlamán (Irish) Seaweed, so many uses means many words to describe it.

Rosa Das Rosas (Religious)

Esto Les Digo (Religious)

Baba Yetu (Swahili, Religious)

Let it Be (British Rock, arr. Filipino)
The final song was a crescendo of voice and intensity as all of the energy generated from the previous songs and the warmed vocal chords of all of the performers exploded into a arena level projection of a song that each member of that audience recognized and appreciated. Standing ovation was the only acceptable and mutually agreed upon response as the entire church jumped up from the pews and the room filled with applause, whistles, and cheers!


As I watched the concert and audience my heart filled with joy with the understanding that yes, indeed this choir had accomplished their goal this evening, and that the potential for their future is more immense than the creators had even considered when they decided to form Karol's Karolers. In the program it does state that Karol is still single, I for the life of me can not figure out why. He is participating in what the Hawaiians call his Mana (Call in life – God's will) and he achieved this on this one evening, so love has got to be very near to him, if the responses from his choir members, colleagues and audience members are any indication of the respect and aloha felt towards Karol and his Karolers, all of them flow with the Aloha Spirit. Mahalo. Yvonne-Cher Skye
Left to right Andrea Smith, Karol Nowicki, Yvonne-Cher Skye, Mitch Moriwaki, Paidric Costello