According to a first-ever study released this month (March) by the
UCLA Center for Health Policy Research and the California Center for
Public Health Advocacy, 38% of California Native Americans aged 18-39
and 51 percent of all adult Natives have prediabetes, a precursor to
Type 2 diabetes. Type 2 diabetes can be avoided with a healthy diet
and increased physical activity.

https://insight.livestories.com/s/prediabetes-a-generation-in-jeopardy/56d78b0659ea410013b63fb5/

I have attached three photos with suggested captions (below) of a
March 18 "Plant a Garden Container" workshop held at the Auburn, CA;
clinic of the Chapa-De Indian Health Program.
Patricia Smith (Sioux/Hoopa), Grass Valley, CA; Kristen Bradley,
certified diabetes instructor and dietician, Auburn, CA; and Shawna
Jackson, (Hoopa), Sacramento, CA; gave a March 18th "Plant a Garden
Container" workshop at the Auburn clinic of the Chapa-De Indian Health
Program. The workshop offered Native American patients and family
members of the Auburn and Grass Valley Chapa -De community hands-on
training on ways to composite, transplant and harvest vegetables in
various-sized containers. According to a first-ever study released
this month (March) by the UCLA Center for Health Policy Research and
the California Center for Public Health Advocacy, 38% of California
Native Americans aged 18-39 and 51 percent of all adult Natives have
prediabetes, a precursor to Type 2 diabetes, which can be avoided with
a healthy diet and increased physical activity. Smith, Bradley and
Jackson are members of the Chapa-De swim team that participated in the
2015 PATHSTAR Alcatraz Swim week. For further information
contact: www.chapa-de.org
and www.pathstar.org.
Photo Courtesy: Patricia Harris Smith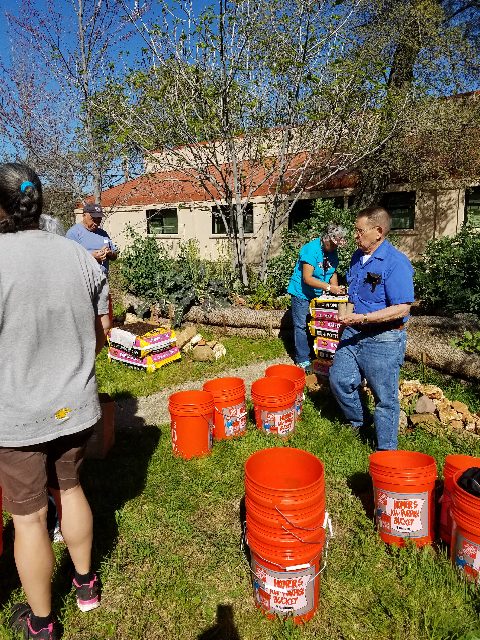 Native Americans examine edible seeds to plant in 5-gallon buckets.
The Natives participated in a March 18th "Plant a Garden Container"
workshop at the Auburn, CA; clinic of the Chapa-De Indian Health
Program. The workshop, offered to Native patients and family members
of the Auburn and Grass Valley Chapa -De community, gave hands-on
training on ways to composite, transplant and harvest vegetables in
various-sized containers. According to a first-ever study released
this month (March) by the UCLA Center for Health Policy Research and
the California Center for Public Health Advocacy, 38% of California
Native Americans aged 18-39 and 51 percent of all adult Natives have
prediabetes, a precursor to Type 2 diabetes, which can be avoided with
a healthy diet and increased physical activity. The workshop was
presented by members of the Chapa-De swim team that participated in
the 2015 PATHSTAR Alcatraz Swim week. For further information
contact:www.chapa-de.org
and www.pathstar.org.
Photo Courtesy: Patricia Harris Smith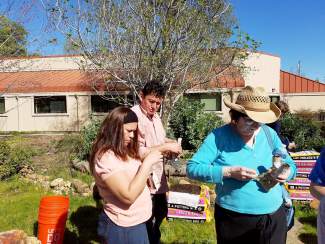 Native Americans check to see that they have the right amount of
edible seeds to plant in 5-gallon buckets. The Natives participated in
a March 18th "Plant a Garden Container" workshop at the Auburn, CA;
clinic of the Chapa-De Indian Health Program. The workshop, offered to
Native patients and family members of the Auburn and Grass Valley
Chapa -De community, gave hands-on training on ways to composite,
transplant and harvest vegetables in various-sized containers.
According to a first-ever study released this month (March) by the
UCLA Center for Health Policy Research and the California Center for
Public Health Advocacy, 38% of California Native Americans aged 18-39
and 51 percent of all adult Natives have prediabetes, a precursor to
Type 2 diabetes, which can be avoided with a healthy diet and
increased physical activity. The workshop was presented by members of
the Chapa-De swim team that participated in the 2015 PATHSTAR Alcatraz
Swim Week. For further information contact: www.chapa-de.org
andwww.pathstar.org
.
Photo Courtesy: Patricia Harris Smith