Native Like Water Takes to the Sea
by Norrie (Doc) Robbins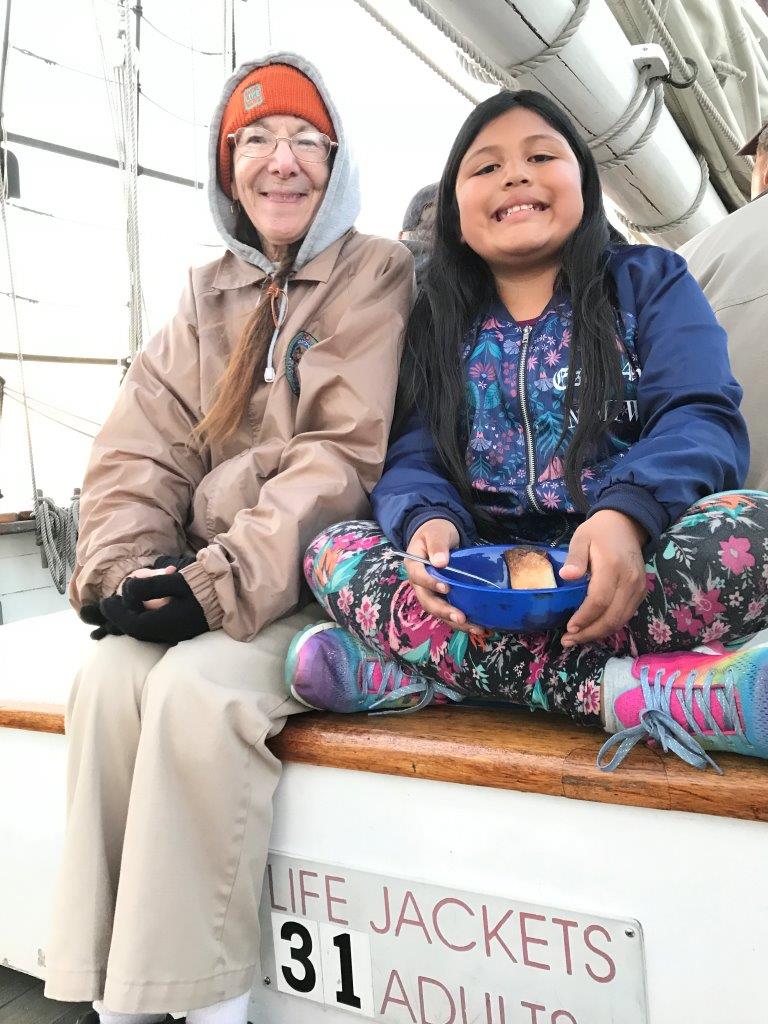 Native Like Water, which is an initiative of InterTribal Youth (ITY) and One World BRIDGE 501c3, fulfills its prophesy -- taking native youth out to sea. Kumeyaay youth from or having family from the nations of Barona, Viejas, Mesa Grande, and Santa Ysabel joined other inter-tribal youth and educators on the schooner "Californian" over the March 23-24 weekend on their first overnight sailing voyage. The ship sailed out into the ocean and then anchored off Point Loma ('emat nylly) for the night. The ocean and its breezes were perfect for greeting youth who were being reintroduced to ocean travel as part of their ancestry. Pods of two different species of dolphins interacted with them and the ship. Even a whale and sea turtle passed by.
Program Leader Marc Chavez (Chicano/Nahua) carefully interwove collaborative support from the Maritime Museum of San Diego, Wildcoast, and participant contributions. Mama T, a healer and cook came in from Hawaii to feed us healthy fresh food which included native foods. The 14 member crew on the ship felt blessed to be eating so well. Marc asked participants to bring an important plant and a song about water. Ukelele in hand, Mama T and students created a new song in three languages—English, Hawaiian, and Spanish. Kumeyaay bird songs were proudly shared by local high school student Daniel Vicaldo of Barona.

Loving supervision of the students was provided by ITY Lead Volunteer Staff: Kiana Maillet (Shoshone-Paiute), who is finishing her doctorate at UCSD, Manny Lieras (Dine/Comanche) came in from Oakland, and Marcus Victor Lopez (Chumash/Chicano) from Santa Barbara.
Science is always part of these ITY programs. Wildcoast Foundation's biologist and conservationist, Cory Pukini brought a remote operated underwater drone vehicle so the students could observe the fish and sea floor. He took a plankton tow and showed the microscopic animals on a computer screen that was hooked to a microscope. UCSD's Astrophysics Professor Adam Burgasser showed the stars and talked about distant galaxies. Geologist and ethnobotanist Norrie Robbins told the story of the changing landscape, how ancestors moved across the ocean, and may have brought the most important medicinal plants with them. The uses of plants as food and medicine are always an important part of Intertribal Youth programs.
The next programs of Intertribal Youth involve a two-week camp in July at La Jolla, learning how to kayak and indigenous science. In August, ITY and Native Like Waterwill be joining with other ocean-based tribes to circumnavigate Alcatraz Island as part of a sacred canoe journey and the 50thanniversary of the November 1969 Indian Occupation. On the recent Native Like WaterVoyage, participant, Anthony Stultz Osuna (Santa Ysabel) shared the story of his grandfather being one of the original occupiers of Alcatraz. A group of youth are being welcomed to start building kayaking skills and paddle out of the San Diego Harbor twice a month starting in May. They will become part of this next history of Alcatraz Island in the land of the Ohlone people. To learn more about Native Like Water, see them on Facebook, Instagram, or learn details of the spring and summer programs at www.NativeLikeWater.org